News
The Hope Center at Pullen — a faith community of hospitality, affirmation and justice — strives to remove barriers to opportunity through personal and community partnerships.
News Archives
Hope Center Receives ABC Foundation Grant
The Hope Center at Pullen is one of 18 recipients to receive a 2011 Palmer Grant through the American Baptist Churches Foundation. The Hope Center's grant is $18,000, which will be used to strengthen the Job Readiness Program.
Each grant recipient's ministry is grounded in a study, community action, and theological reflection methodology. The Palmer Grant bears the name of two lifelong Baptists — Virginia and Gordon Palmer, Jr.
We are grateful for this support of our efforts to help chronically homeless adults find employment and develop the skills they need to live healthy, productive lives.
The Top JobLink Access Point
The Hope Center at Pullen was named the No. 1 JobLink Access Point out of 11 sites in Wake County. We had 643 customer visits, both new clients and repeat customers, from July 1, 2010 to June 30, 2011. This is a tremendous achievement for The Hope Center at Pullen in its three-year history.
Our Hillsborough Street location gives people who live transiently near downtown a walk-in, no-cost neighborhood site. Volunteers offer clients basic guidance to explore job opportunities, create resumes, submit applications and prepare for interviews.
Gift from Downtown Raleigh Alliance
The Downtown Raleigh Alliance surprised us with a check last Thursday of money they had raised at their annual ladies luncheon. As new DRA members, the Alliance wanted to do something special to recognize The Hope Center at Pullen. The Hope Center at Pullen is featured in the DRA monthly newsletter as well as receives other benefits from our membership. Thank you, Downtown Raleigh Alliance!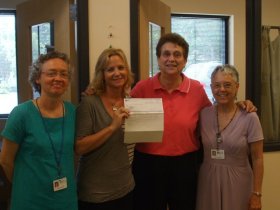 Diane and Pat pose with Erin Newton and Beth Barnwell of RTI International after receiving their donation.
RTI support through their Community Partnerships program
A big thank you to RTI, International for their recent donation through their Community Partnerships program. "RTI is committed to helping people by giving back to the communities where we are located." The Hope Center was one of 86 organizations that received grants in 2011 from RTI out of 109 applicants.
Welcome to our new Program Coordinator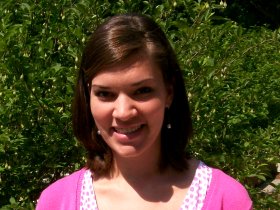 We are excited to introduce Hilary Towle to you. She is our new Program Coordinator at The Hope Center and will be with us through mid August. Hilary grew up in Cary and just graduated this May from Meredith College with a BA in Sociology and a Minor in Women's Studies.
Hilary is looking forward to working with the staff, mentors, and program participants at the Center, and increasing her skills while applying her newly acquired knowledge of sociology. She says that "The Hope Center is small and still building itself up, and that process is very exciting." She will be in the office during normal operating hours working closely with Pat Hielsher, Office Manager, and Diane Daily, Job Readiness Program Manager.
AJ Fletcher Foundation Makes Challenge Grant
May, 2011 –The A.J. Fletcher Foundation recently awarded a two-year challenge grant that will support our Job Readiness Program. 
About the Foundation
Vision
Change North Carolina by helping people and organizations recognize and solve social and community problems. Let's fix it together
Mission
Support nonprofit organizations in their endeavors to enrich the lives and well-being of people of North Carolina.
"This challenge grant from the A.J. Fletcher Foundation is very generous and will enable us to provide resources to people during a period of great instability," said Anne Sayers, board president of The Hope Center at Pullen. "We are leveraging this grant to raise additional funds from our friends and partners in the community who are supportive of our mission to help homeless men and women become employed and move into stable housing. We appreciate the Fletcher Foundation for believing in our work and showing faith for a better future for our community."
In May 2011, the board launched a fundraising campaign to invite people to support the mission. The name of the campaign, 1:1 Invest in Hope, reflects The Hope Center's successful one-on-one service delivery model for the Job Readiness Program.
Network for Hope Introduces Us to Business Community
April 2011 – Students in a Service Learning Class at Meredith College, the owner of Mitch's Tavern and the president of the Greater Raleigh Chamber of Commerce helped our board host a meet-and-greet for downtown businesses on April 12.
"Network for Hope was our board and staff's first opportunity to introduce our mission and programs to business neighbors," said board member Caroline Cate. "It was a great way to open the door to engage more people wanting to support the adults endeavoring to bring stability to their lives."
The brief program centered on sharing stories of our participants and volunteers in the Job Readiness Program. "Attendees were interested to know that the men and women in our program set their own goals, create tangible benchmarks and work to create an effective relationship with their mentors," said board member and mentor Laura Langham.
The Meredith students collaborated with Hope Center board members to plan the event as a class project. The collegians met with the restaurant owner, marketed the event and hosted the check-in.
"To make the event meaningful, we designed an invitation that shared a story of a man who, with encouragement from a mentor, secured a full-time job," said Erin Huber, Meredith College '11. "In this way, the owners and managers of businesses along Hillsborough Street whom we invited learned about someone moving on from being homeless."
Guests gathered in a private room at Mitch's Tavern on Hillsborough Street. The Downtown Raleigh Alliance and the Hillsborough Street Community Corporation invited their respective members.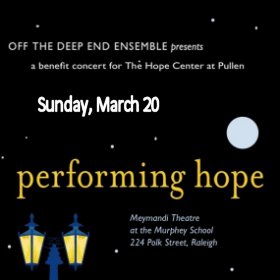 Creating Community, Performing Hope Improv
March, 2011 - A benefit improv held Sunday, March 20 perfectly paralleled our mission. Just as program participants and volunteers reach out to share personal stories and create new relationships, Performing Hope encouraged each of us to express our human interdependence.
More than 60 people gathered to enjoy the unscripted concert of dance, songs and stories by Off The Deep End Ensemble. "I left breathing more deeply than when I had arrived and contemplating what inspires me say hello to a passerby and wish this person a day of hope and joy," said one who attended.
We are grateful for the enthusiasm and financial support that Off The Deep End Ensemble generated. Off The Deep End Ensemble transforms the stuff of everyday life into provocative authentic moments bursting across the stage. Learn more
Welcome to our new Program Manager!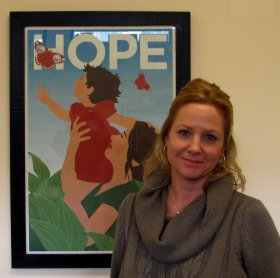 February, 2011 – Diane Daily brings thirteen years of professional experience in the development, implementation and management of social service programs for children, youth and adults. Beginning her tenure as our Program Manager, she'll manage all program activities and develop new components to strengthen it.
"The board was impressed that Diane created and implemented a community reintegration program for ex-offenders in Phoenix that assisted clients with career planning, job placement, financial planning and housing services," Anne Sayers, board chair said. "As we transition from being a start-up agency, Diane's strengths will help with our strategic direction."
Diane will recruit, train and support mentors and program participants. She will also attend community-based meetings where social service organizations collaboratively advocate for ending homelessness.
Welcome to our new Office Manager!
January, 2011 -- On her first day in the office, Pat didn't sit down much. She was going through files and greeting people coming in to use the computers in our JobLink Access Point area. That's just the start. Meetings, events and friendships are on the horizon.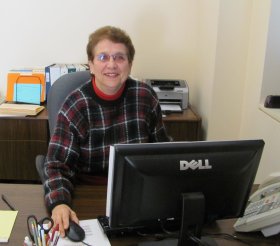 Pat volunteered through 2010 to support the creation of our volunteer program. She led the volunteers who produced and hosted our most successful fundraising event: Raising Hope 2010. As office manager, she will oversee daily operations, supervise our JobLink Access Point Program, recruit volunteers, and collaborate with agency partners.
"Pat will play a critical role in teaming with the board to guide the organization beyond a start-up phase," Anne Sayers, board chair said. "We welcome her for her organization and communication skills as well as for her ability to demonstrate care and concern to all involved in our mission."
Farewell and Thank You to First Executive Director
December, 2010 -- Porter Bell, our first executive director, led The Hope Center at Pullen for its first two years of incorporation. Her management role was as much about getting the organization set up for operation as it was to promote and expand programs.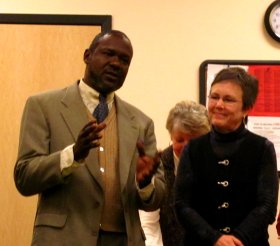 Porter cultivated relationships with more than 20 community organizations, oversaw three programs and managed substantial grant awards. As the face of The Hope Center at Pullen, she established an ethos that continues to attract and retain people dedicated to creating a community of hospitality, affirmation and justice.
"Porter has been the ideal executive director to get the startup nonprofit on firm footing," Caroline Cate, a board member said. "Each day she committed herself to being kind, patient and attentive to volunteers and program participants alike, while focusing equal effort to establishing the operational infrastructure. She inspired us all to face the acute challenges of homelessness by first being open to new friendships."
The Board of Directors expresses its appreciation for Porter's tireless dedication to lay a foundation upon which The Hope Center can grow and wish her well in her future endeavors. In 2011, the board will hire two part-time staff members: an office manager and a manager for the Job Readiness Program.
State Employees Can Designate The Hope Center for Workplace Giving
Good news for state employees who make payroll deductions or one-time gifts during the State Employees Combined Campaign: this year you can select The Hope Center at Pullen! Your gift will provide a framework of one-on-one support vital to adults experiencing homelessness. With encouragement from a mentor and resources from our Job Readiness program, people can begin to remove significant barriers as they endeavor toward a healthier and more productive life.
Find pledge information at http://www.ncsecc.org. (p.s. Retired state employees can also select The Hope Center at Pullen.)
Jobseeker Workshops: The Path to Employment
AmeriCorps members offered instruction and resources on four Thursdays over the summer of 2010 to help jobseekers prepare for gainful employment.
Gauging Wake's Fight Against Homelessness
On average a chronically homeless person costs the community $5,500/month (including 23 nights in a shelter, police and emergency transport, medical care and professional crisis assessment) and that does not include the cost of those who seek a rest for a warm spot to sleep. Read the first of a two-part story in the Raleigh Public Record.
Adding perspective to the issue, Barry, an Army veteran, shares his experience of living homeless. Read The Faces of Homelessness, the second of the two-part story.
Improv Benefit Raises Consciousness
Off The Deep End Ensemble explored the things that encourage our sense of hope through original dance, story and song at the January 24 event, Performing Hope. Many guests contributed foundational words for creating the improv: honesty, trust, hugs and volunteers. A handful of the 80 guests participated in a movement using hands to represent the strength and the tenuousness of relationships. Gifts contributed will support the mission and programs of The Hope Center at Pullen.
Area employers recognized
The Employment Initiative Team of the Raleigh/Wake Partnership to End and Prevent Homelessness recognized two area "Champion Employers" for their efforts to hire job-seekers who have experienced homelessness. The two employers include NC State University, nominated by The Hope Center at Pullen, and Newcomb and Company, nominated by StepUP Ministry. Representatives from The Hope Center and StepUP Ministry work with the Employment Initiative Team as a way to educate our local employing community about our Job Programs, which serve to support individuals experiencing homelessness and other barriers to employment. The recognition took place at the Greater Raleigh Chamber of Commerce on October 28, 2009.
Hope Center Open House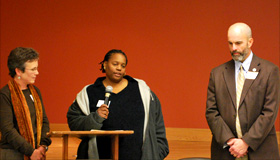 Open House Brings In the Community
On October 15, 2009, the Board of Directors hosted an informal gathering of neighboring businesses and friends at The Hope Center at Pullen.
A parent of a 6th Grader in the Wiley Tutoring & Enrichment program shared how her son is confident and doing well in middle school with the love and support of his tutor.
A Job Readiness program participant shared his successes over the past year: a full-time job, his move out of a shelter, his purchase of an automobile and his invitation to join the Board of Directors of The Hope Center at Pullen.
Working with InterPlay, participants learned to express their hope through creative movement.
If you missed the event, invite us to share our stories. Ask a Board member to provide a program for your civic club, garden club or business. We'll share how Job Readiness program participants are getting jobs, moving out of homeless shelters and studying for the GED. We'll share how youth are achieving better grades and transitioning with confidence from one grade level to the next. Telling these stories of hope increases volunteerism and financial support. Thank you very much for helping us succeed! Contact our Executive Director to make arrangements.
View more pictures from the open house
JobLink Set Up at The Hope Center
The Capital Area Workforce Development Board opened a JobLink Access Point at The Hope Center on Thursday, June 25, 2009. As part of the SHARE Network, the JobLink Access Point makes online tools and resource books readily available to people who may lack job search skills.
Set up in faith-based and community organizations, SHARE Network Access Points are sites where job seekers can go in their own neighborhoods to look for jobs. Hope Center volunteers have been trained on how to connect job seekers to the online JobLink system to conduct job search and receive tips for preparing resumes.
Sites also opened at Celebration Community Church (314 Bashford Road, Raleigh) and Urban Ministries of Wake County (1390 Capital Boulevard, Raleigh). Access Points are the result of an exciting partnership with the U.S. Department of Labor, the U.S. Division of Employment & Training, the Center for Faith-based and Community Initiatives and the state of North Carolina Division of Workforce Development.
The Hope Center JobLink site is open three times a week.

Raleigh church embraces environmentalism
Church addition reflects congregation's wish to help people -- and the Earth
New church buildings tend to come in one of two styles: old-timey faux colonial or big-box-store functional. Members of Pullen Memorial Baptist Church wanted neither.
The members of this Raleigh congregation on the edge of N.C. State University have long been known for their willingness to take risks, and the 9,800-square-foot addition they dedicated Sunday is only the latest example.
Affectionately dubbed the "shiny diner," the metal-shingled two-story addition is intended to contrast with the brick Romanesque-revival 1950 structure on Hillsborough Street. Where the old building has narrow vertical windows, the new addition has wide horizontal windows. Where the old building suggested a Moorish castle, the new building is unabashedly modern and suggests an ease with technology and innovation.

Envision a TV show about the homeless, by the homeless
It was, if not a dress rehearsal, then certainly a debut. Ricky Caldwell, a 43-year-old homeless man whose life until recently was a string of ex's — "ex-drug user, ex-drug dealer, ex-convict, high school drop-out" — spoke to the congregation several Sundays ago at Pullen Memorial Baptist Church in Raleigh.
Caldwell is a star in the church's job readiness program, part of its new ministry for the homeless. In a white shirt, tie and white V-neck sweater, Caldwell could've been the minister himself. "Sorrow looks back, worry looks around, and faith — and only faith — looks ahead," he declared in a strong, steady baritone voice. He's looking ahead.